Preschool Lesson Plans
These free simple preschool lesson plans will help you to monitor early child development. Often in the daily rush of family life we miss the little things that are so important.
Using free preschool activities (most things toddlers do really) and observing and making short notes in a structured way. This gives you a written map of your toddler behavior and how your toddler is progressing.
Often we don't see how much a child has learned or how they are struggling with some things. We all get distracted and forget to make a note to deal with it later
Using preschool curriculum ideas
You are not really teaching you toddler so much as letting them learn from doing. Just set up the preschool activities then simply observe and write some short comments. Over a period of several weeks or months you can look back and now see the areas they really do well and the areas they may need some more help.
Free preschool lesson plans
I have put some real life examples of prescool lesson plans below to help you see how simple it all really is. Just click on the lesson plan box below if you want a preschool printables version to read on paper.
Preschool lesson plan 1
These three examples below are of written observations of preschool development while playing with playdough recipes. You can simply click on them and read or print off and use for reference.
You can print off blank forms for your own use at the bottom of this page.
Observation of
child aged 2 1/2yrs


Observation of
child aged 3 1/2yrs


Observation of
child aged 4yrs






All most anything qualifies as toddler learning activities as they explore the world around them. Every day is full of exciting new things to do such as learning shapes and colors.

You can make a difference to your early child development by using these toddler lesson plans. You will see how fast your toddler learns to cope and manage the world around them. You will be able to monitor their:


Preschool language development


Preschool social development


Preschool math


Preschool creative


Preschool physical skills development



Teaching preschoolers without really teaching ?
Just to recap on an important point. It is better to just observe and comment rather than try to teach preschoolers. They need to experience the world as it happens. Then learning from these experiences is the best teacher they can have.
So just organize some preschool activities and then step back a little. Let them play and discover for themselves, there are plenty of free kids games to play on this site or as printable games for kids. So you don't have to look far for ideas.
preschool lesson plan template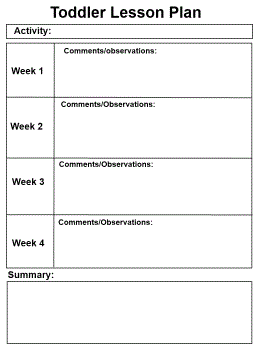 You can use these free preschool printables form for all sorts of preschool activities such as learning games for kids. These can be used for comments and observations even for kids games to play online. They are also really great for use with easy crafts for kids.
So use the blank form here for any kind of learning activities or learning games for kids. Now print off your free preschool lesson plans form by clicking on the image here and get started now with you toddler development.
I'm sure you will get so much from using the pre school lesson plans for free that you found right here.