Preschool christmas crafts
Looking for some preschool christmas crafts that your little ones will really enjoy ?
Looking for some easy christmas crafts for kids that make great presents for family and freinds ?
Want some kids christmas crafts that won't break the bank ?
Then read on as you're in the right place as we have some really great easy christmas crafts for kids to enjoy. These toddler craft ideas can be used just for FUN or as presents from them to other family members and freinds.
You can combine preschool arts and crafts with christmas crafts and end up with some really great presents that will have cost very little or even nothing.
Your toddlers will feel so proud at having made the presents themselves. Also grandparents especially will treasure a present like this more than a store bought one.
So no more rambling on lets get to the stuff that matters...........Preschool christmas crafts!
---
Christmas Crackers
You will need a few bits and peices to make your christmas crackers. Some you will almost certainly have around the house, some you will need to aquire or buy.
Don't panic though even if you have to buy some preschool christmas activities stuff it will cost very little. Your list of required items is just below
Crepe paper ( red and green)
Little bits to stick on to decorate.
Toilet roll tube
Red ribbon
Chocolate or candy to hide inside
to make your cracker go "Bang"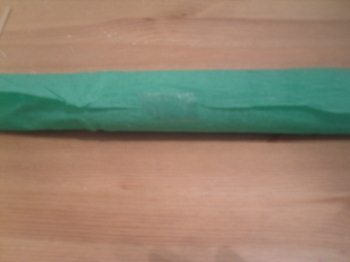 Using the crepe paper cut a square 13 inches by 13 inches. Then roll it in the crepe paper. I find sticking a tab of sticky tape on the paper and tube holds it in place while you roll it.
Then use a tab of double sided sticky tape to hold down the end of the fully rolled crepe paper. We ran out of double sided sticky tape when we made these christmas crackers so we just used regular sticky tape. It looks better if you do it right especially if your kids want to give these as presents.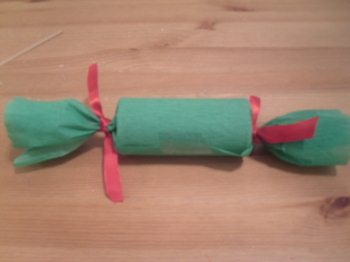 Next job is to tie the ribbon on the ends of your cracker. We had some red ribbon hiding in a drawer but it was a bit wider than needed. so we cut it down the middle. Then used a peice for each end.
Just tie a simple knot to hold the ends in place. You could make a bow with the ribbon but remember how many todders can tie bows. You really need to let them do as much as possible.
Just try and help a little bit and get things organised for them.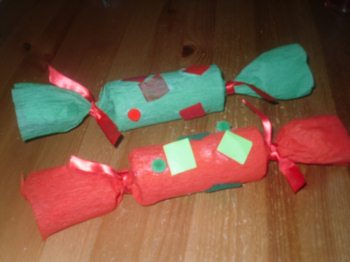 Now for the bit that your toddler can do with no help from a grownup. That is sticking decorative bits and peices onto their finished christmas cracker.
We used bits of ribbon, tissue paper, felt, all cut up into small squares. Also we had a few little pom poms left over from other craft activities.
There you go a finished christmas cracker that even the smallest toddler can have a go at making, or at least helping to make. With these preschool christmas crafts you can either save them for the table on christmas day or let your little one give them as christmas presents to friends and family.
---
Preschool Christmas Crafts Party Hat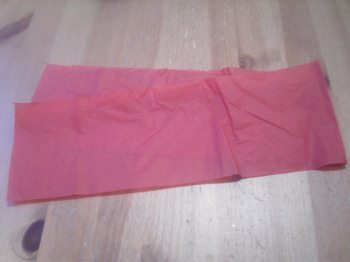 These are super easy to make and you can let your toddler help with these. First you will need to cut some tissue paper to size.
In the picture above I folded the sheet in half. Then cut a piece 3 1/2 inches wide by 12 1/2 inches long. Remember this will be twice as long as the paper is doubled up.
Now before you go any further you need to glue the open ends of the strip together creating a loop.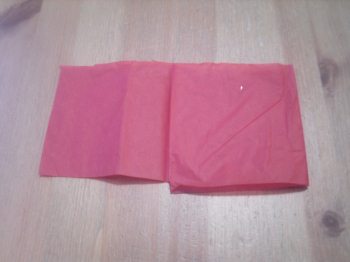 Next step is to flatten the loop of tissue paper down. Then fold over by a 1/3 into the center, then fold over the other side by a 1/3. As in the picture below.
Why not geta pair of My First Scissors
craft project and others. These are perfect for learning to cut with as they are designed especially for toddlers to use easily and comfortably.
They will also make a great little extra christmas present.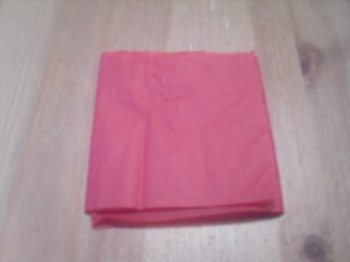 Now the loop has been folded threee time. The next step is to fold it again this time in half.
Now you need to cut a slope across the folded tissue paper as in the picture above. That's it all done just unfold the paper loop and you now have a paper christmas crown.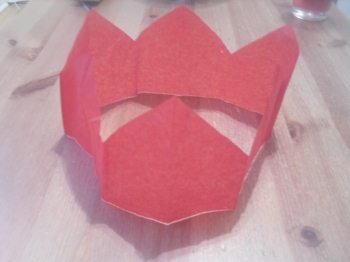 Get your 20 x 30 Art Tissue Paper (100 sheets)
here from amazon.com
---
Magic Reindeer Food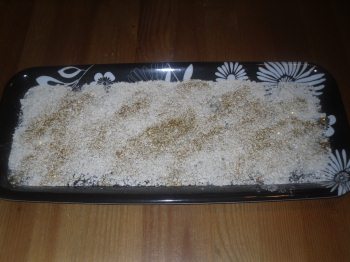 This is one of those super easy preschool christmas crafts that is really great fun one to do with your little ones. all you need are some oats and a little glitter.
Get your toddler to spread the oats on to a tray then get them to sprinkle on some glitter to add some "Magic Sparkle".
Then either cut some out some cellophane squares about 8 inches by 8 inches, or just get some from ebay.
Now get your toddler using a spoon to pour some "Magic Reindeer Food" onto the middle of the cellophane.
Next use a piece of ribbon to tie up the top of the package as in the picture just below.
if you don't have any to hand then this 3/8'' Double-sided Satin Ribbon Red By The Yard
from amazon.com will do the job nicely. You can use it for making the christmas crackers as well.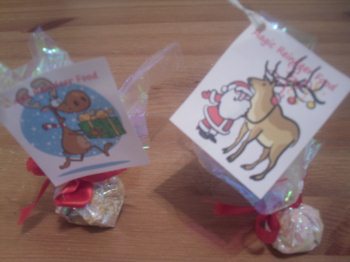 Now all you need to finish off your "Magic Reindeer Food" parcel is a special picture tag.
to get yours just by click on either of the images below to download your free "Magic Reindeer Food" tag.
---
Snowman and Christmas Tree Cards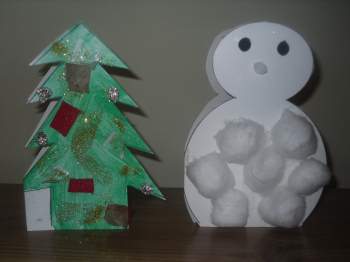 How about this great little free preschool christmas crafts idea. Preschool christmas crafts cards Let your toddlers have a go at decorating their own christmas cards. All you have to do is put some white thin card in your printer. Then print of either of the ready made templates.
Just click on either of the images just below to print off. When printed use scissors to cut out the shapes.
Then let your toddler decorate to their hearts content. The snowman was decorated with cotton wool balls on the body. Then the eyes and nose were made using mini pom poms.
The tree was painted green then decorated with small bits of ribbon, felt and glittery baubles made of scrunched up baking foil. To finish it was sprinkled with some glitter for luck.
Keep checking back to find more preschool christmas crafts that you can do with your little ones.