Lamb casserole with mash potato recipe
Lamb casserole with mash potato Ingredients: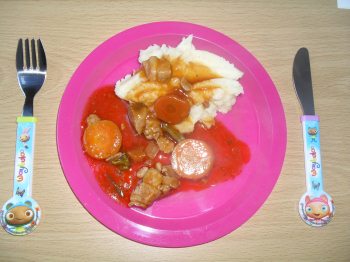 Remember to leave for a few minutes to cool
before serving.
20oz (600g) Diced lamb
1 Large onion
7oz (200g) brocoli florets
7oz (200g) Baby carrots
1 Lamb stock cube (oxo)
1 Table spoon Olive oil
2 1/4 lbs (1kg) Potatoes
4fl oz (100ml) Milk
1oz (20oz) butter
A pinch of salt and pepper to taste
Pre heat your oven to 220 Celsius, 425 Farenheit gas mark 7
Method:
Slice the onion and carrots into bite size pieces. Also chop the brocoli and place all into an oven proof dish
Now you need to brown off the lamb cubes in a pan with a table spoon of olive oil.
Then lift the lamb cubes into the oven proof dish leaving the juice in the bottom of the pan.
Now prepare the lamb stock I cheat and use a lamb stock cube (such as oxo). mix with 1/2 pint of water then add the meat juices from the pan.
Now pour your prepared lamb stock over the vegetable and diced lamb in the casserole dish.
Now put the casserole dish with lid on into your pre heated oven for 1 1/2 to 2 hours. Leave longer for a more tender finish.
Half an hour before the casserole is cooked you need to boil 2 1/4lb (1kg) of peeled potatoes.
Boil your potatoes for 20 to 25 minutes until soft. Then Add 4fl oz of milk and 1g of butter and mash all together to a creamy finish.
Finally place the mashed potato on to the centre of your plate and then ladle on a generous helping of the lamb casserole right over the top of the potato. Now it is ready to serve, for toddlers leave to cool for a few minutes.
---
Why not print off a few of the toddler recipes you have found on this website that interest you and have go at making some of them.
Getting organized!
They are all simple to do and don't take a lot of time to cook. Like all things in life it's the getting the ingredients together before you can start that can take the time. So plan to make some of these next week and put what you need onto your shopping list.
What do you think ?
If you try any of our recipes out then please let us know what you think and how your little one enjoyed it or not as the case maybe. If you would like to add something new to this or other recipes then please feel free to do so.