Cheese and tomato tarts recipe
Cheese and tomato tarts Ingredients: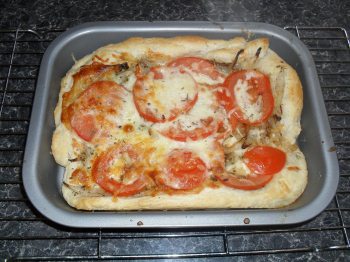 Fresh out the oven leave to cool for a few
minutes then cut into small squares.
375g (13oz) Packet of ready rolled puff pastry
1 Tablespoon of milk
1 Large onion
3 Tablespoons of olive oil
Half a teaspoon of dried mixed herbs
Salt and ground black pepper
225g (8oz) Cheery tomatoes
225g (8oz) Mozzarella cheese
Pre heat your oven to 220 celsius, 425 farenheit gas mark 7
Method:
Unroll your pastry and lay on a baking tray. Cut to fit your baking tray, then cut into six equal pieces.
Put the milk into a cup then use a pastry brush to brush milk around the edges (about 1/2 inch)of the 6 pieces.
Peel and cut your onion into slices.
Heat up the olive oil on a low heat and add your sliced onion.Cook on low for ten minutes until the onion is soft.
Now stir in the mixed herbs and add some salt and pepper. Now spoon the onion mix over the pastry Avoiding the milky edges.
Use a serrated knife to cut the tomatoes in half. Then arrange the tomatoes on the top of the mixture with their cut sides upwards.
Open the mozzarella bag of cheese and pour away any liquid. Cut into 1cm (1/2 inch) cubes. then scatter them evenly over the tomatoes.
Put the baking tray on the middle shelf of your oven for 25 to 30 minutes, or until the pastry rises and turns brown.
Leave the tarts on the baking tray for around 3 to 4 minutes to cool down. Then serve straight away. These are really very simple and the kids will love them.