apple crumble with cinnamon recipe
apple crumble with cinnamon Ingredients: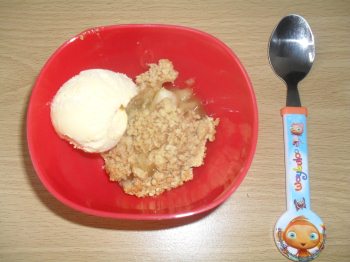 A really tasty treat your toddler will love. Finished off
with a scoop of ice cream.
2 Cooking apples
4 oz Self raising flour
1/2 Teaspoon of ground cinnamon
1 1/2 oz butter
1 Teaspoon Sugar
2 oz Oats
Method for making:
Peel the apples and cut in half and remove the core.
Then put the apples in to a pan of boiling waterand add a teaspoon of sugar. Bring back to the boil and simmer for 20 minutes.
Next blend the flour and butter with your finger tips. Then mix in the cinnamon and continue until the mixture resembles bread crumbs.
Next stir in the oats.
Pre heat the oven to 180 celsius/ 350 farenheit. or gas mark 4.
when the apples have reduced to a soft consistency. Take off the cooker and pour into an oven proof dish.
Next sprinke on the crumble mixture and even around a little.
Finally put into the oven for approx 25 minutes until the crumble is golden brown.
Take out of the oven and allow to cool then serve with ice cream.
This is a reall easy toddler dessert that is simple to make and the kids will love.
---
Why not print off a few of the toddler recipes you have found on this website that interest you and have go at making some of them.
Getting organized!
They are all simple to do and don't take a lot of time to cook. Like all things in life it's the getting the ingredients together before you can start that can take the time. So plan to make some of these next week and put what you need onto your shopping list.
What do you think ?
If you try any of our recipes out then please let us know what you think and how your little one enjoyed it or not as the case maybe. If you would like to add something new to this or other recipes then please feel free to do so.