Corn flake crunchies recipe
Corn flake crunchies Ingredients: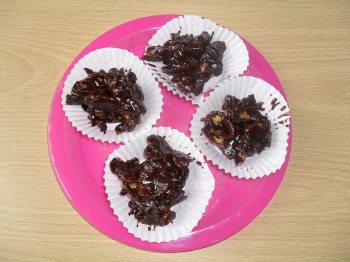 Super easy to make and a great little treat your
toddler can help you make.

225g (8oz) milk or Plain chocolate

3 tablespoons of golden syrup

50g (2oz) margarine

100g (4oz) Corn flakes

Method for making:

Use an 8 inch round shallow tray.

Grease the tray well with butter or margarine on a paper towel. Grease the inside well, but don't leave on too much butter.

Then break the chocolate into a large pan. Then add the golden syrup and margarine. heat the pan gently stirring all the time.

When the chocolate has all melted, then add the corn flakes and stir them in well. Making sure that they are all coated evenly.

Next spoon the mixture into the tray and gently smooth the top with the back of a large spoon. Don't crush the corn flakes if you can help it.

Finally put the tray in the fridge for the chocolate to set. It normally takes around 2 hours.

Then use a sharp knife and cut up in to pieces ready to serve.

This is a really easy toddler dessert that is simple to make and the kids will love. It's also great for a rainy day when your little one is stuck indoors. It's the perfect toddler activity, you can make it into a toddler cooking game as well as enjoying eating them. They are very morish yum yum, so don't be shy and make plenty so everyone can enjoy and have seconds.