Baked Bananas recipe
Baked bananas Ingredients: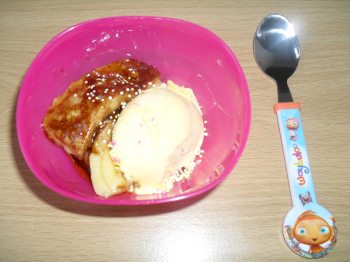 A really tasty treat your toddler will love. Finished off
with hundreds and thousands.

4 Large bananas

2 tblsp brown sugar

1 tsp Cinnamon

30g Butter or margarine

Method for making:

Cut the bananas in half lengthwise.

Then put in an overproof dish with the cut sides facing up.

Then melt the butter in a saucepan over a low heat. Stir in the sugar and the cinnamon

Next pour over the bananas and cover the ovenproof dish with kitchen foil and bake for 45 minutes.

Pre heat the oven to 180 celsius/ 350 farenheit. or gas mark 4.

Allow to cool then serve with ice cream.

This is a reall easy toddler dessert that is simple to make and the kids will love.